PoP Up at Le Bon Marché with Beauregard Studio
Le Bon Marche Paris is displaying its Summer 2019 selection as an artists Residency, solely focusing on the essence of Beauty. This aesthetical approach lends the shop floor an air of a modernist Archosanti workshop as well as the classic atelier feel of la Villa Medici in Rome. Volumes become monolithic, and a myriad of eclectic objects are filling this minimalistic universe. As if the various studies of multiple artists were creating involuntary harmonies: painted ceramics, serigraphy, weaving… all these techniques find here their true significance, along with ultra-contemporary artworks and furniture.
As part of this Summer selection, Affinités, a collection curated by Coco and Aurelia Paoli is displayed in its very own French atelier themed PoP Up at Le Bon Marché . From February 6 until September, the collection will sell new items exclusively available from Le Bon Marché, manufactured in France from materials sourced domestically and ethically. This is the first edition of Affinités as a pop-up. Coco and Aurelia explored myriad of materials and their purposes. They spontaneously combined elements to create uniquely designed pieces.  Affinités captures the essence of craftsmanship and keeps close to the creative process of its carefully handmade products, combining strong Art-Deco aesthetics with a pop touch.
Here our interview on 24sevres.com  and also available here
"Affinités Project" is the creative manifesto of Coco Brun & Aurélia Paoli, two very well-matched designers. Their jointly-created patterns feature on all kinds of decorative materials, including: cement tiles, paint, wallpaper, digitally printed stained-glass, cushions and throws, as well as scarves. We caught up with Coco from Forget Me Not and Aurélia from Beauregard Studio mid-collaboration.
Coco, where did you get the idea to start your own brand?
I started out in art direction in England, working for designers and doing illustrations for magazines. When I launched Forget Me Not, it was just a collection of silk scarves. Now, I create prints for anything, whether it's fashion, beauty or homeware. I also do digital installations and shop windows – it's really expanded, although patterns still form the basis of my work.
Aurélia, what is Studio Beauregard?
Beauregard is a design studio and printers that specialises in finishing floors and walls to stunning effect.
What led to you working together and combining your creations as part of the "Affinités Project"?

Aurélia: I liked flowers, Coco liked geometry! We were neighbours and the collection seemed like an obvious thing for us to do. It really showcases our skills in textile and surface design by incorporating different media. We began with blank pages for creating our very own world.
Coco: What's great about being freelance is working with friends. Basically, you're never alone. Mine and Aurélia's studios are on the same street. I dreamt of doing something for the home and using patterns differently. I was thrilled when Aurélia told me we were doing a collection. We could combine our strengths by working with media that we were both familiar with, and have open discussions about what we wanted to do. We worked at our own pace; the collection is still evolving and there are more projects in the pipeline!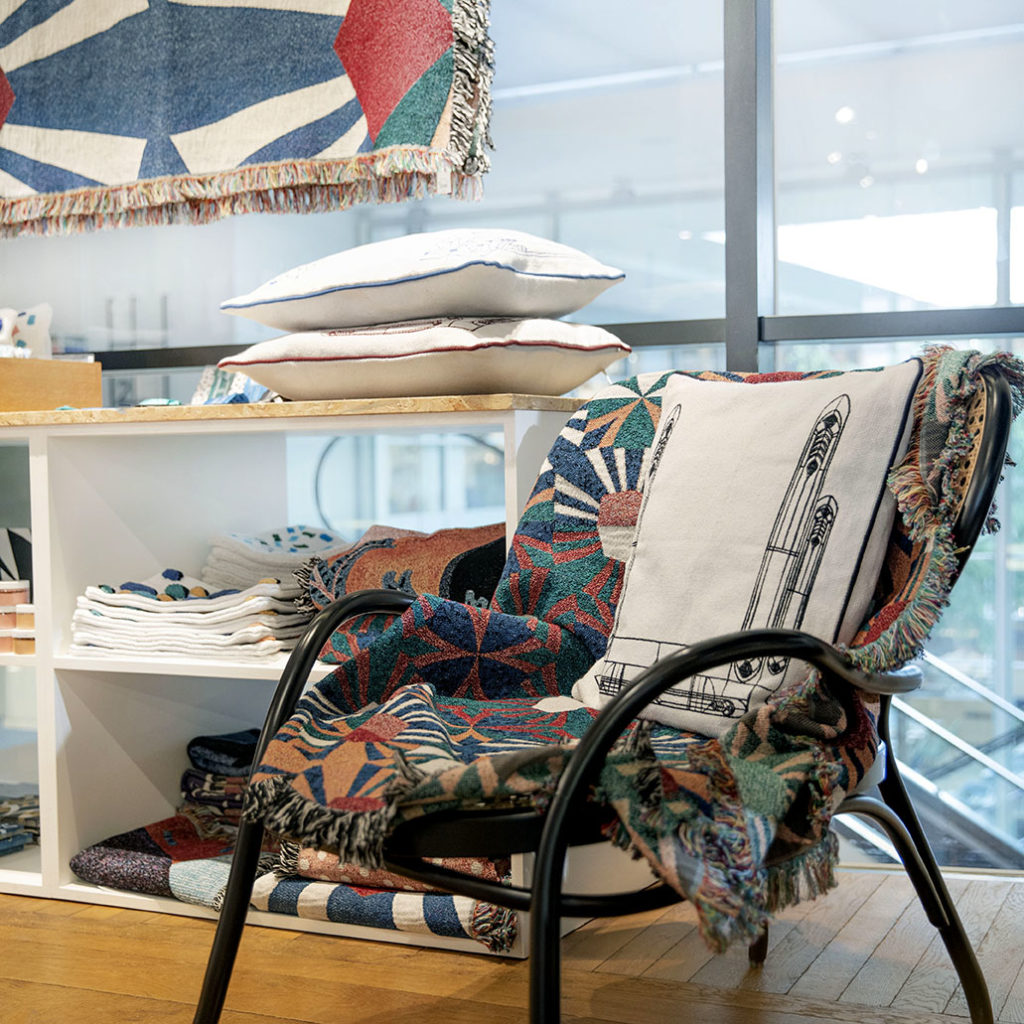 Can you tell us about your creations and describe what it is that you do?
Coco: I enjoy exploring new domains, working with different media and materials to help me develop. It's very useful when it comes to collaborations.
Aurélia: Both Beauregard Studio and Forget Me Not have a strong identity, a predilection. I think it's about attitude and offering something different. Uncompromising products, where colours and patterns are king.
Is there any stand-out piece in particular?
Aurélia: For Beauregard, I would say the mixed clay "confetti" cement tiles. Then the deckchairs for relaxing in the sun.
Coco: I'd say the tiles too – it was a novelty for me and I enjoyed working on them so much that I used them in my bathroom. I was the collection's first customer, which only made it even more special; it's brilliant being able to create something for yourself.
How would you describe your aesthetic and where does your inspiration come from?

Coco: My inspiration comes mainly from my travels – patterns seen in folk art and traditions, as well as nature, of course. My world is quite a hybrid, I always use geometry to give my patterns structure.
Aurélia: A lot of my work is about duality: masculine/feminine, craft/industry, past/present… I find it fascinating. Nowadays, my inspiration comes from experience. I think I've aged like a fine wine. Nourished by all these exhibitions, films, music and artists along the way…